The mister is about to be deployed for the first time and I'm a little freaked out by the all the unknowns. I reached out to some military spouses and asked for advice. If you'd like to guest post about deployments...advice, your experience, homecomings, anything at all relating to deployments...shoot me an email echandwill@gmail.com
---
Hi everyone, my name is Dontaye Scott-Neal and I have been a military wife for 10 years in the great branch of the Marine Corp. I love all branches though. I am an Air Force veteran. I blog over at Scottneal Designs where I pretty much talk to you about my whole life. I am currently a military spouse, full-time student, fitness enthusiast, and blogger. I have two fur babies; Chloe and Tyson. The sweetest Shih-Tzu's you will ever met. Oh and of course you want to know where I live right?! We are stationed in the great old state of North Carolina which is where I am originally from. Thanks so much for having me today and please run over and check out my blog and like me on Facebook. Thanks.
If you're a military spouse there will absolutely become a time when we have to go through a deployment by ourselves or with our children. Deployments can weigh heavy not only on your heart but on your families as well. For any one who doesn't know, deployments can go anywhere from a month (if you're lucky) to 18 months (I give a big shout out to Army wives). I am currently surviving my second deployment which isn't quite as bad as the first one was. When your other half is in a place fighting for our country that you see on the news everyday going through a time of war deployments can literally tear you up inside. So I have written this survival guide for all military spouses. Ok well I wrote a survival blog post lol...book soon to come.
#1 Spend as much time with your other half as possible. For the ladies, I have to say this and say it kindly lol...do not...I repeat do not....keep your man locked in a corner where only you can have him lol. I say this with much respect. Allow your husband to spend time with family as well. The reason I make the point about spending time is because for some of us who have friends that don't have husbands in the military we always hear, "How long are you going to spend time with him?". "Are you coming out tonight? You can spend time with him tomorrow." Don't listen to your friends. Military life is a job and part of that job is spending time with family and your spouse especially if your spouse is going to a war zone.
#2 Its okay to cry and be sad ladies and gents. This is an emotional time in your life and some of us could never imagine being away from our other half. Shed tears ladies because later in the deployment you will be shedding tears of happiness for the return. If you find yourself completely overwhelmed with depression please seek comfort of a friend, family member, priest, or whomever. Ok I shouldn't say whomever but you know what I mean lol. Do not...I repeat... Do not try to do this alone. Some women are strong enough to do it but it's better to get it out than to keep it in.
Once your spouse is gone....
#3 Do not watch the news!!! I interrupt this program to tell you "TURN OFF THE NEWS!" For those of us who have spouses going to Afghanistan, Iraq, Libya, and etc we do not want to see stuff blowing up, military headlines, or hear anything that pertains to the branch of service your spouse is in. This only makes the deployment extremely harder. It gets your mind going and your heart pumping. I made that mistake the first deployment and almost went crazy. Stay off the news.
#4 Stay as busy as you can! This is by far the most important. The more you are bored and locked in your house, the time will go by so slow and you will start to get depressed. Don't do it. When my husband left, I worked full-time and went to school full-time. I also played softball, hung out with friends, and went on trips. Since I kept myself so busy, every time my hubby called it was like I had just spoken to him the day before even though I hadn't. Find a hobby to do, a part time job, pursue a dream, and just get yourself active.
#5 This survival tip is not for us. This survival tip is for the person who is deployed but it involves you. Keep the letters and the packages flowing. Not only do we need to survive but so do our significant others. I wrote my husband a letter almost every day even if the paper only said I love you on it. I could tell from talking to him that whenever he got a letter or package from me that he was happy and felt loved. It doesn't have to be a life long story letter every time. Scribble I love you, draw a smiley face, funny joke, the date of your marriage, the date of your first born child, or whatever makes you and your spouse smile together.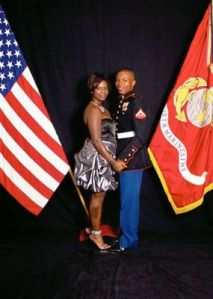 I have to tell you that there are really 100+ ways to survive a deployment because everyone is different and all deployments are different as well but what I have listed above are major to me. I could really write a book with 1,000 ways possibly lol. From me to you though, I have to say as a military spouse always walk around with your head raised high because what your spouse is doing for our country is worthy of praise. As a spouse, you're not worthy of his rank ( inside joke! If you have been a military spouse for a while you understand) but you are worthy of praise as well. We have to go through a lot in this kind of life from moving around to being alone at times. So don't ever let anybody talk your lifestyle down.
Okay okay.....enough from me lol. Starting next week I will be opening up a session on my blog for military wives to ask me questions about anything military related that they want and I will post the question without names and the answers. If you have questions you would like to submit please email me at scottnealdesigns@gmail.com.