We went and saw Oz the Great and Powerful Saturday at the UCI theater by the Emisfero mall in Pordenone. Have you seen it? If you have, please tell me you were laughing out loud throughout the show. We went with our friends I swear it was just the four of us laughing throughout most of it. *sort of spoiler alert, but not really* You know the shank part? The four of us were DYING. But no one else was really laughing. I think there were a few quick little HA's. Anyway, we all really enjoyed the movie.
If you're stationed at Aviano, check out
The Reel Wyvern's FB site
. A guy (I believe his name is Jay, but I'm not positive) does his best to act as a liaison between the Americans and the theater. He's really good about listing movies and times. This weekend was the first time they opened up on the weekend for movies in English. Until now they've been doing one mid-week showing. They're trying this new thing where they open the whole theater at 10:30 on Saturdays and show all the movies they have available in English. The guy who runs the FB site is really cool about listening to complaints too. He asks how everyone's shows went so he can bring it up to the management at the theater if something goes wrong.
UCI Cinemas
Via Maestri del Lavoro, n. 51
Fiume Veneto Pordenone
After the movie, we walked around the mall for a little while. The guys dared each other to pose in the windows as mannequins...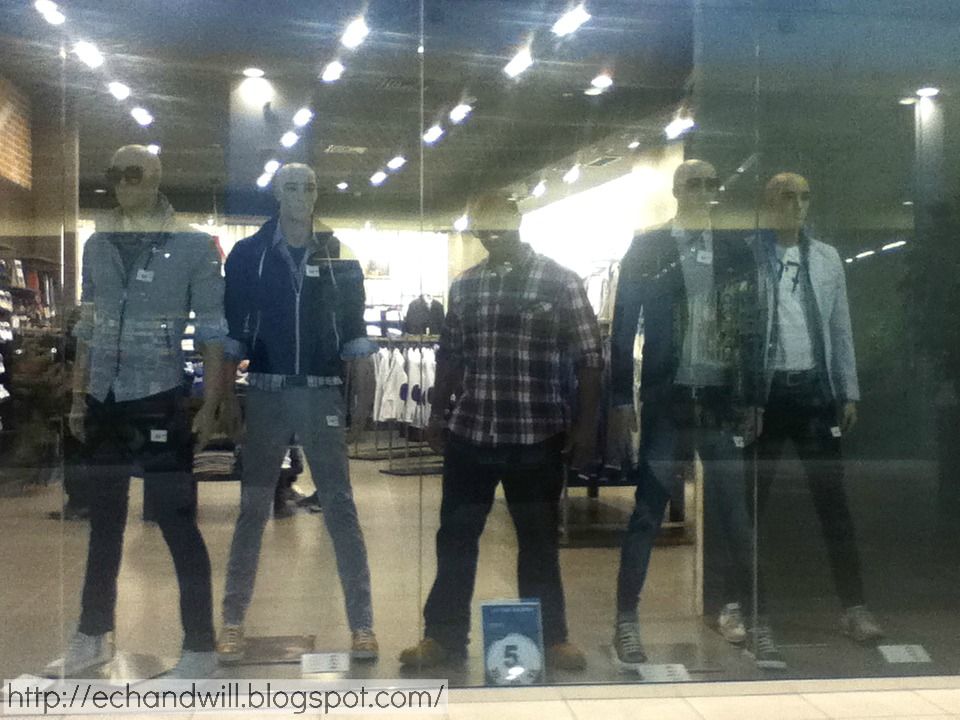 ...those aren't sunglasses they're wearing. They're the 3D glasses from the movies. The theaters here allow you to reuse your own glasses. If not, it costs an extra euro to buy the glasses.
I had to post this because this is one of my favorite quick dinner meals that we make every once in awhile. We fry burger patties up with some teriyaki sauce and eat it with rice and an egg. SO good! And SO easy!
The mister and I spent the rest of our Saturday catching up on Boardwalk Empire and watching Heroes on Netflix. I told Will he'd like it and he fought me for the longest time, but I finally broke him down. Of course now he's hooked.
I posted a picture on Facebook recently and he wasn't s
miling so a lot of our friends and family were teasing him about it and telling him to smile more. He posted the following picture as a rebuttal with the caption: "
Here's a picture of me smiling. Now stop telling me to smile."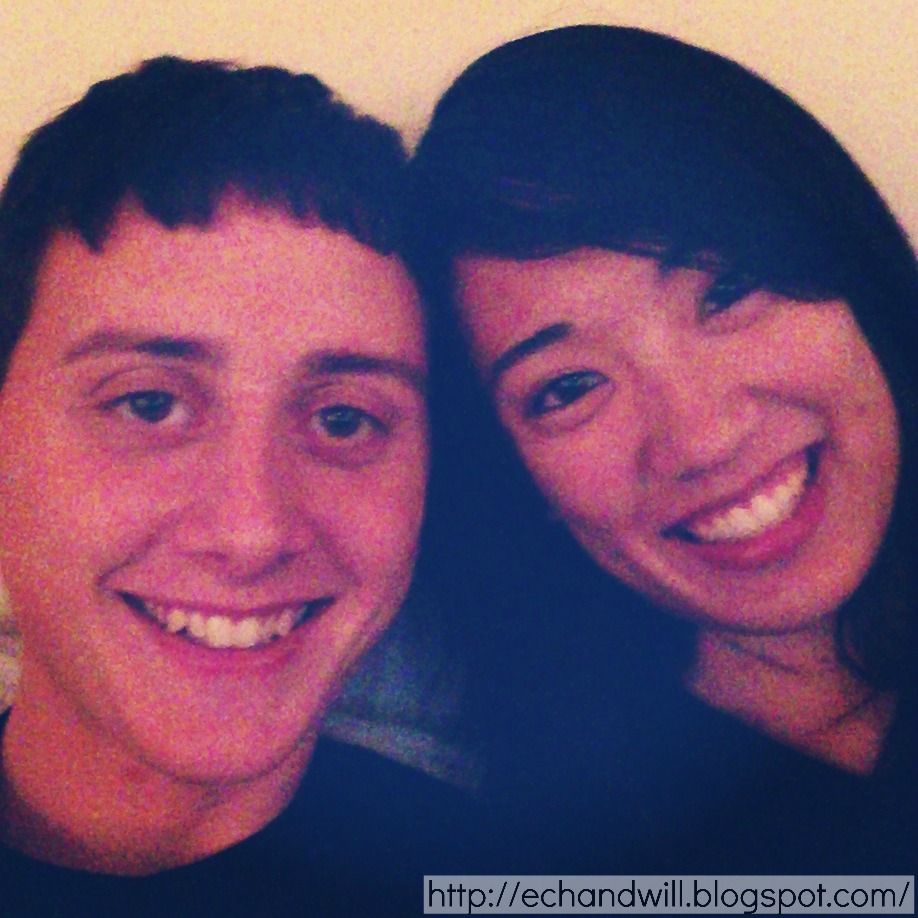 CONGRATS to @echandwill on winning ad space & an East African kanga from @totheseablog!! I'll be emailing you shortly, girl!
— Casey Cote (@CaseyCote) March 9, 2013
On Sunday we went to a friend's house for a bbq. He used to live in the same dorm as Will and Seester at Elmendorf so we've known him for a long time. When we pulled onto his street a super cute dog was walking on the side of the street. Just as we would start to pull around it, it would swerve to the middle of the street then cross over. I swear he was doing it on purpose after we tried twice to pass and couldn't. When we walked into our friend's house guess who was sitting on the couch?
He was a crazy pants, but after he burned off all his energy he made a great cuddle buddy.
After that we met up with some other friends for a late dinner at Boi Gordo. Basically it's a fixed price and you go to a buffet for your sides...rice, potatoes, bread, pasta, vegetables, etc. Then you sit at your table and they bring around huge skewers of meat and slice a piece off for you. They told us what each meat was when they got to the table, but of course they said in Italian so we have no idea what we were eating. There's a card on the table. It's basically red light, green light. Red, "No more I'm stuffed" or maybe "I need a break come back later". Green, "Come on over!" We made it through 5 or 6 rounds before we had to give up. There was a breaded chicken breast that was AMAZING. But I also liked what seemed like roast beef and a steak. Our server spoke really nice English and everyone was really friendly. We practically had to roll ourselves to the parking lot by the end of the meal.
On the way out all of us got a toy from the vending machines. (Because we're all small children at heart and couldn't pass it up.) I got a green dragon. I named him Duck the Dragon since he's UO colors. Will got some sort of bouncy goo thing. It's not as cool as my toy.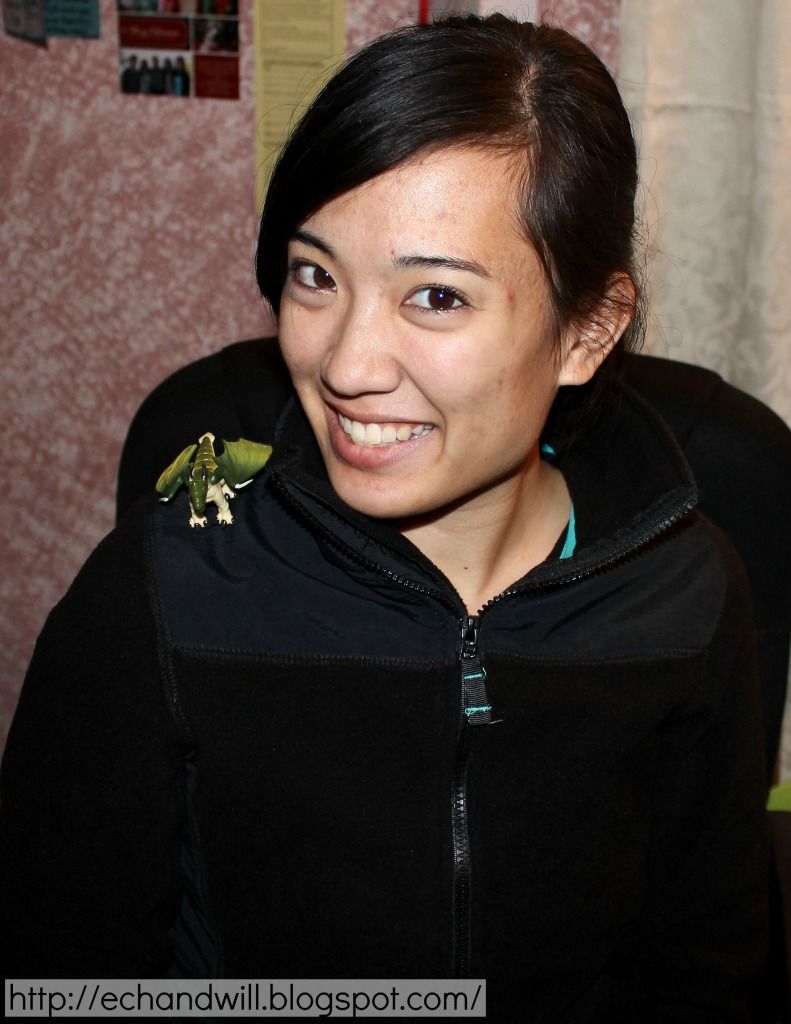 Boi Gordo

Via Pontebbana, 13
33080 Pordenone Zoppola
And to top off my weekend...I inspired some ramen creativity over at Mr. & Mrs. Foster. Yesss!
---