This weekend was both good and bad. For the most part, I've been handling Will's absence surprisingly well. I think it's all my amazing blog friends and their encouraging words. I still can't get over how caring people are.
I got a few messages here and there from Will, as always he wasn't very talkative. But it was just so comforting to get those few words from him.
Saturday I went to see G.I. Joe: Retaliation with two of our friends from the other squadron on base. SO good! I don't remember much of the first one, but I definitely know this one was better. I'm not easily impressed by fight scenes...in fact I usually get bored halfway through them. But this one had some great ones.
After the movie we didn't know what to do and we ended up sitting outside on our cars and talking. It was warm sunny day and we were just soaking it all in.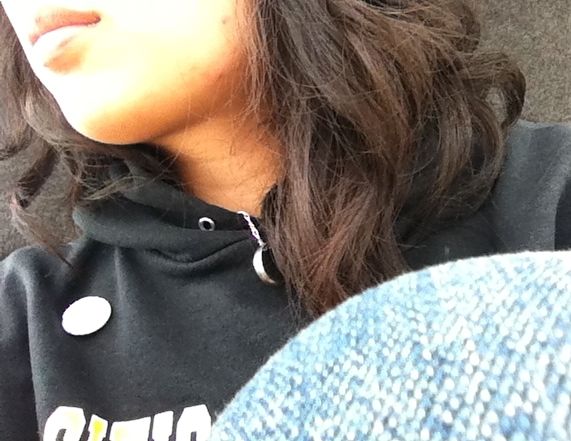 I accidentally took this while hanging out in my trunk, I kinda like it.
I was sitting in my trunk since my car is super dirty. D noticed the trunk release and asked if I ever tested it out. I've never had any reason to so he jumped in to try it out...presumably to give me peace of mind in case I ever get locked in my trunk.
Sunday started out not so good. I was frustrated with the lack of communication with Will. I know I should be more patient, but I was never really good at that. In my head I know better, but I react faster than I think. It's something I struggle to work on. I had planned on staying in bed with Netflix all day, but he was able to Skype me for about an hour and it seriously turned my day right around. I just needed to see his face and hear his voice. I vented to him and he took it all in stride as usual. He said the words I didn't know I needed so badly. He made me laugh, he pretended to touch my face, he kissed me through the screen.
After that, I jumped out of bed. I came downstairs and started rearranging and cleaning. Now that he's gone, I can pack up and store all the military crap that has been cluttering downstairs. It's amazing how much bigger the room seems without the bags and gear that he keeps ready and immediately available to toss in the car for exercises. I love it!
---
Linking up with...