I have been holding onto this for a little while to make sure I wanted to post this. But I still feel very strongly about it. So I decided to post.
---
A lot of thoughts, prayers, hopes, good karma, positive thoughts, etc are going out to the people affected by the victims of the tornadoes and storms in the Midwest. Mine included.
My friend posted a simple thoughtful Tweet and got a ridiculous response. This makes me FURIOUS! My friend is an amazing person and is taking the high road so I took out all names and pictures involved.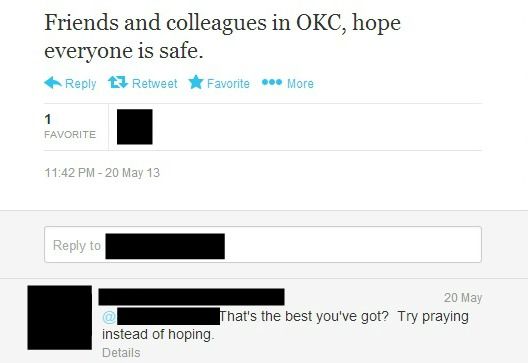 Like I said, my friend is taking the high road. If he gave me the go ahead, I'd be blasting this insensitive jerk's name all over Twitter, my blog, Facebook...every possible place I could.
What's wrong with hope? Everyone needs hope.
I myself believe in God and prayer. But I don't believe in shoving it down everyone's throats. If you want to pray. Great! If you want to hope or send good karma or even a thumbs up. Awesome! I'm not going to disparage your thoughtfulness in reaching out. If you don't agree, keep it to yourself because you're giving religious people a bad name.